A Guide to the Different Lab Refrigerators and Freezers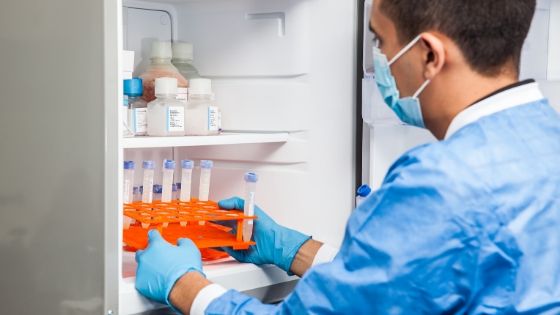 When you work in a scientific or medical laboratory, you need a safe and secure place to store the different materials, samples, and products you work with. Lab refrigerators and freezers are dependable solutions to temperature control and preservation of these resources. Because of the delicate nature of many of these materials, it's important to equip your laboratory with the perfect cold storage unit. There are many options to choose from, each with its unique benefits. To help you find the right equipment for your lab and materials, here's our guide to the different lab refrigerators and freezers.
Why Do You Need a Laboratory Refrigerator?
Lab refrigerators and freezers are crucial in preserving sensitive materials and samples. Because of this, they have a more rigid and consistent temperature control system than your standard household fridge. In the medical industry, this reliable temperature control allows healthcare professionals to safely store vaccines, blood samples, pharmaceutical supplies, and more. All of these materials rely on extremely consistent temperatures and other hygienic measures to reduce the risk of complications, such as bacteria growth or unstable materials. These refrigerators and freezers provide a dependable cold storage solution for scientific, medical, and pharmaceutical laboratories. On top of temperature control, medical lab refrigerators also have an advanced security system. This helps monitor any fluctuations in the storage unit and alerts the laboratory workers when there are any issues, such as a sensor failing or a staff member accidentally leaving the freezer door partially open. By monitoring and alerting laboratory staff to temperature changes, the alarm system helps monitor and fix any errors that could lead to destroyed or damaged samples within the refrigerator. This helps preserve samples and keep labs from losing their precious materials—as well as the money it takes to purchase them.
Under-Counter Refrigerators and Freezers
Under-counter refrigerators and freezers are efficient storage solutions for labs with less space. At two and a half or four cubic feet, these units fit well beneath counters, into corners, and in other areas with limited room. The benchtop refrigerators also serve to increase counter space and give your staff a larger working area. Under-counter refrigerators and freezers come with many of the same options and features as their larger counterparts, including free-standing or built-in options, glass or solid doors, and more. This range of features and functions makes under-counter refrigerators an affordable cold storage solution for smaller laboratories.
Upright Refrigerators and Freezers
High-performance upright refrigerators are probably what you picture when you think of a standard laboratory fridge. These units come in a wide range of sizes to fit many different types of laboratories. You can also use a combination refrigerator and freezer for more efficient storage. Two- or three-door units work well for larger laboratories that require more storage space. Of course, these larger units still come with strict, reliable temperature control systems, allowing you to adjust and maintain the ideal temperature for your vaccines, pharmaceuticals, and other materials. These systems include an intelligent microprocessor controller, a digital display, and a security system to alert laboratory staff to any issues or temperature fluctuations.
Low-Temperature Freezers
There is no universal temperature setting for vaccines, samples, and other materials you might store in your laboratory freezer. This is why it's important to keep track of the various temperature requirements for each of your samples. Standard freezer temperatures run at around –25 degrees Celsius, but that isn't cold enough for some materials. If your lab has lower temperature requirements, you'll need a low-temperature freezer. These have a temperature range of around –10 to –45 degrees Celsius, offering a more intense cold storage solution for your lab's materials.
Ultra-Low Temperature Freezers
If low-temperature freezers aren't cold enough for your laboratory's work, you'll need an ultra-low-temperature freezer to protect your materials. Specialists design these freezers for the most powerful, intensive cold storage. Ultra-low temperature freezers have a temperature range of –50 to –86 degrees Celsius. The intense temperature requirements for these materials make the freezer's security system even more important. As such, these ultra-low temperature freezers come with a digital, password-protected display, an audible power failure or low battery alarm, a sensor failure alarm, and more. These extreme temperature freezers also come with a magnetically sealed door for extra insulation and control. Additionally, these units feature a rapid cool-down system that helps return the materials to a safe temperature after the door opens and closes again. This temperature recovery helps lower the risk of spoiling or contaminating your materials whenever your staff has to work in and out of the freezer.
Blood Bank Refrigeration
In addition to vaccines and pharmaceuticals, medical professionals also use lab refrigerators to store blood, plasma, and other blood products. Blood bank refrigerators need to follow strict regulations to safely store blood and its related materials. In addition to dependable temperature control, blood bank fridges should also have built-in storage compartments and a strong organizational system. Blood products are impossible to organize by sight alone, yet it's crucial to differentiate between the different blood samples in your lab. A reliable and well-maintained organizational system is key to your lab's blood bank fridge.
Features and Accessories
As mentioned above, medical lab refrigerators and freezers come with many different features and settings to help protect the unit's temperature and security. Some of these features help reduce the need to open the unit's door and risk the internal temperature. For example, a glass door on your laboratory refrigerator allows you to inspect and take stock of your materials without opening the unit. Similarly, an external, digital thermometer gives you and your staff an accurate reading of the unit's temperature, allowing you to maintain your materials without physically inspecting them. Other accessories, like an audible alarm system, data loggers, or wireless temperature monitors serve to keep an extra eye on your materials. This allows you and your staff to catch potential issues before they arise, saving your materials and ensuring better overall success for your lab.
We hope this guide to the different lab refrigerators and freezers helps you outfit your lab with the cold storage units you require. Choosing the right equipment is a vital part of running your lab, and K2 Scientific is here to help. From a standard upright refrigerator to rigorous ultra-low temperature freezers, we're here to provide the certified, quality products your lab needs.