What Kinds of Careers are Found in a Medical Laboratory?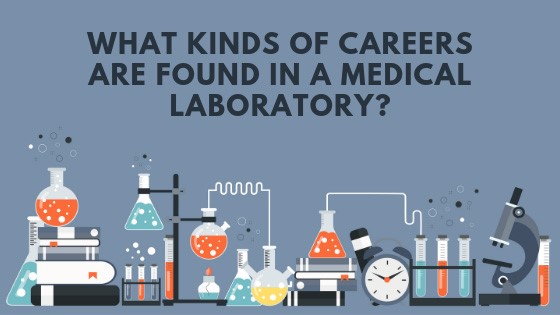 The medical and laboratory technology fields are growing fast for a few reasons: the Affordable Care Act introduced new mandates, the population is aging quickly, and major advancements in diagnostics and treatments are a few. The medical field, therefore, has many jobs that need to be filled, and that will probably be the case for a long time: the increase in jobs isn't being met by an increase in qualified candidates.
So what types of careers can you find in a medical laboratory? Before getting into the specific jobs, it would be prudent to look at what it's like to work in a lab, what kind of money you can make, and what career advancement opportunities you can find.
Work Environment
Laboratories are found in hospitals, clinics, corporate-owned facilities, and universities or government buildings. All labs are well-lit, sterile, temperature-controlled environments full of very expensive, high-tech equipment. Staff members usually work alone or in small teams, but they can be called on to interact with doctors, researchers, or other staff. Unlike other members of the medical field, lab techs tend to work regular nine-to-five shifts, although night shifts are possible if the lab is a busy one.
In general, people who work in medical labs perform the necessary tests to help doctors diagnose and treat diseases. They prepare samples for analysis, monitor tests, and analyze fluids and their chemical content. Part of the job is collecting bodily fluids and tissues for analysis and operating sophisticated medical equipment to help diagnose patients.
Salary and Outlook
As in any field, the salary of a lab tech varies based on experience and education. Other factors, such as your specialty, the location of the clinic, and what kind of technology you're able to operate, can come into play. A pathologist, for example, will make the most money in this group: over $250,000 a year. To be a pathologist, you need a bachelor's degree, four years of medical school, and three to four years in a residency program. That amount of education will command a higher salary than that of a lab tech, who only needs a certificate. Regardless, the salary prospects for anyone with a medical background are good. The aging population and the host of healthcare problems facing the country will keep medical professionals working for as long as they want to.
Careers in a Medical Laboratory
Pathologist
Pathology is the study of disease. In other words, it's the field of medicine that studies the very nature of the disease to treat it. Pathologists study the causes and effects of diseases so that doctors can accurately treat patients. Clinical pathologists work in labs or pathology groups as consultant physicians, applying knowledge of tissue and lab analyses to assist in patient treatment. They use laboratory tools in clinical studies, disease models, and experiments to advance the comprehension and treatment of disease. Becoming a pathologist takes a long time and a lot of education. As mentioned above, anyone considering the field will need an undergraduate degree, a medical school degree, and a post-graduate residency—but they can earn $250,000 annually.
Medical Technologist
Medical technologists are kind of like the crew members of a theatrical production: they do the behind-the-scenes grunt work that the audience never sees. A medical technologist analyzes and tests blood, bodily fluids, and tissue samples in the lab. They work in all areas of a lab, including toxicology, chemistry, genetics, and microbiology. Most techs work under the supervision of a pathologist, but they do work on their own sometimes. A medical tech is responsible for making sure that tests are finished in a timely and correct manner. They also have to maintain and operate the equipment within the lab, clean the medical freezers that house vaccines and samples, and make sure supplies are stocked. A bachelor's degree and completion of an accredited medical technological program are needed for this career. On average, they make $45,000 to $80,000 per year.
Histotechnician
Histotechnology is the science of cell structure and its formation into organs and tissues. More specifically, it's the study of tissue abnormalities for the detection and treatment of disease. A histotechnician uses dyes and chemicals to study tissue samples under a microscope. Chemical reactions created by the combination of the tissues and chemicals produce color, making it possible to see the different cell structures. The information gathered from these processes is vital for the early detection of diseases so that they can be treated and lives can be saved. Histotechnicians must complete a program certified by the National Accrediting Agency for Clinical Laboratory Sciences (NAACLS) or earn an associate degree with additional training at a hospital. Salaries for this career average around $55,000 annually.
Cytotechnologist
A cytotechnologist is a lab specialist who analyzes cells. Cytotechnologists study cells and cell anomalies by looking at slides of human cells under a microscope and determining whether or not the cells are abnormal. Studying cells is crucial in identifying potentially terminal diseases while they're still treatable, as well as in helping patients recover from illnesses. The process involves taking cells from any part of the body that may have an abnormality and placing them onto slides. The cytotechnologist will examine the slide and mark any cellular changes that indicate disease before making a final report and passing it on to a pathologist for final review. A pathologist will use the information gathered to diagnose and treat any disease found in the cells. To become a cytotechnologist, you must have a bachelor's degree and graduate from an accredited cytotechnology program. An experienced cytotechnologist can expect to earn $60,000 a year on average.
Phlebotomist
If you've ever donated blood or had blood drawn for tests, it was a phlebotomist who took your blood. Phlebotomists are responsible for drawing blood for donation, tests, and transfusions. They're trained to draw blood in a variety of ways. The most difficult method to master is venipuncture, or puncturing a vein. Less invasive methods involve a finger prick, and, in the case of infants, a heel prick. On any medical lab team, the phlebotomist is the only patient-facing member. Phlebotomists are responsible for sterilizing the equipment and making sure all the samples are labeled and stored correctly. A GED or high school diploma is required to enter an approved phlebotomy training program, and one can expect to earn around $30,000 a year as a phlebotomist.